While U.S. Secretary of State John Kerry is scheduled to meet Lao Prime Minister Thongsing Thammavong on Jan. 25, Barack Obama will become the first U.S. president to visit this Southeast Asian country later this year. Their visits are to back Laos as the 2016 chair for the Association for South East Asian Nations, or ASEAN. As the United States makes this strategic move, it must urge Vientiane to improve its religious freedom record, which remains worrisome since 2009, according to the U.S. Commission on International Religious Freedom, or USCIRF.
---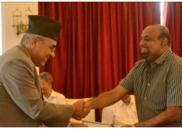 WEA RLC's annual national training is designed to prepare Christians in restricted nations to face persecution. As such, the training aims to educate Christians on the biblical theology of persecution, equip them to be advocates for religious freedom and empower them to stand firm and thrive amidst pressure and persecution. This year, the World Evangelical Alliance, Religious Liberty Commission (WEA RLC) conducted its annual training seminar in Kathmandu, Nepal.
---
According to a report, a young Christian man who turned his home in Belarus into a shelter for the homeless is facing a 2 year jail sentence after being accused of leading an unregistered religious organisation. Aleksei Shchedrov, 28, is facing criminal charges following police raids on his home in the Grodno region in February and April of this year. He is being investigated under, Article 193-1 of the Criminal Code which punishes, "organisation of or participation in activity by an unregistered political party, foundation, civil or religious organisation."
---

According to reports, militants of the Islamist group, Boko Haram, have attacked 4 Christian settlements in Borno state, Nigeria, killing a pastor and torching 4 churches. In the attack, the retired Reverend Jacob Kwiza of the Church of Christ in Nigeria was killed after he refused to renounce his Christian faith. An area resident, commenting on the incident said, "The gunmen threw some explosives at our church, they forced the Reverend to renounce Christianity and to convert to Islam, but Reverend Jacob defied the gunmen's threat of being killed.
---